Media
Lynyrd Skynyrd Drummer Michael Cartellone Gives Art a New Focus with Pixelism.
- December 3, 2018
Drummer Michael Cartellone, of Lynyrd Skynyrd, comes to WKYC to discuss his passion for painting.
- July 8,2017
CLEVELAND NATIVE AND LYNYRD SKYNYRD/DAMN YANKEES DRUMMER OPENS ART EXHIBIT AT DOWNTOWN HILTON
You may not easily recognize his face or name, but chances are you've heard his beat as the drummer for famed groups Lynyrd Skynyrd and Damn Yankees. But there's another side to Cleveland native Michael Cartellone that many are just now beginning to discover. During his downtime on the road and while on break from touring, he trades banging the drums for brushing on canvas. - July 7,2017
Cleveland artist with Lynyrd Skynyrd connection shows off art
CLEVELAND, OH (WOIO) - For 20 years, Solon native Michael Cartellone has been playing drums for the legendary rock band, Lynyrd Skynyrd. Saturday he moves in front of the stage to show off his artwork. - July 7,2017
Cleveland native and Skynyrd drummer Michael Cartellone showcases another talent
- July 7,2017
11Alive:
Michael Cartellone showcases his works of art and shares stories about his time with Lynyrd Skynyrd - June 17, 2015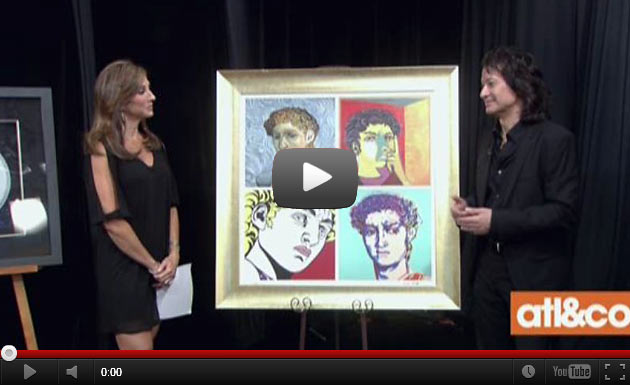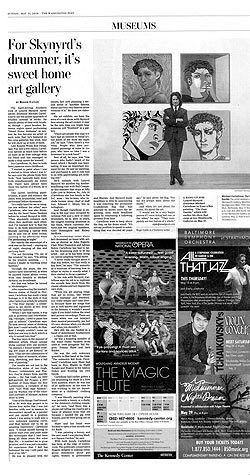 The Washington Post:
For Skynyrd's drummer, it's sweet home art gallery - May 11, 2014
CBS Baltimore Interview:
Coffee with
Michael Cartellone - May 16, 2014
CBS Baltimore Interview Web Extra:
Coffee with
Michael Cartellone - May 16, 2014
Skynyrd's Drummer's Art Rocks
The Outta Leftfield Web Blog - June 8, 2010
excerpt:
Michael Cartellone is a class act. The drummer for the legendary southern rock band Lynyrd Skynyrd for the past 11 years, he's been painting since he was 4 years old. Many of those paintings, a lot of them with a rock theme of course, were on display Sunday at Wentworth Gallery in the King of Prussia mall.
I had the pleasure of interviewing Cartellone for a preview story on the event, which appeared in the Ticket entertainment section of Montgomery Newspapers a few weeks ago.
Cartellone was just as pleasant and accommodating in person as he was on the phone during the interview. He had a lot of family and friends at the exhibition with him, including his parents, and spent a lot of time talking with fans of his music and art during the three-hour event.
One of Cartellone's pieces, titled "New York," features a likeness of his father, Joseph. The fan that purchased the piece at Wentworth on Sunday got both the artist and his father to sign the artwork, creating a uniquely one-of-a-kind aspect to the painting.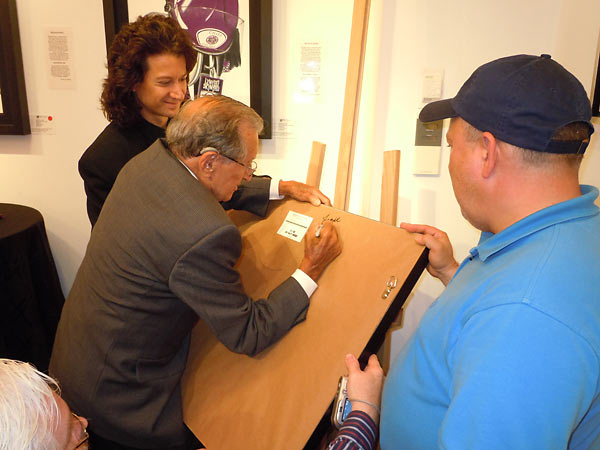 Wentworth has in the past hosted exhibits by Paul Stanley, lead singer of KISS, and actress Jane Seymour. Gallery director Tom Curley always hosts a nice event for local fans and art aficionados and makes sure they get some face time with the artists when they purchase a piece of art.
On that particular Sunday afternoon in June, Cartellone plus Curley equaled . . . cool.
CBS Interview: Ronnie Van Zant painting unveiling
NBC: Ronnie Van Zant painting, Freebird painting, and Bruce Springsteen painting on a drumhead discussed
CNN Interview: Rockin' The Canvas.
Drumming up Some Fine Art Rock
The Montgomery News - May 25, 2010
Gallery Openings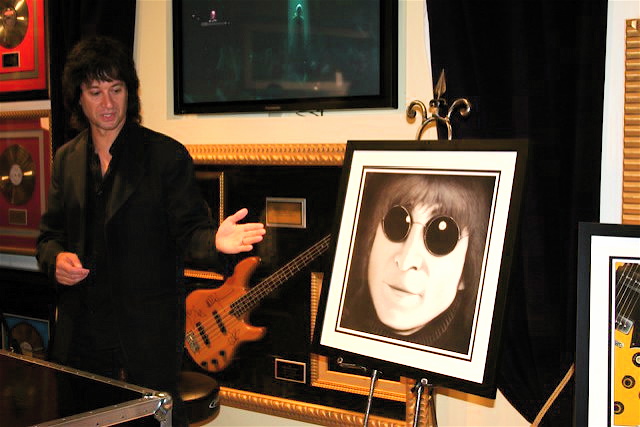 Rock Star Gallery - August 30, 2006
Located in Phoenix, Arizona the Rock Star Gallery is a well known and respected art gallery which features music themed artwork by some of the most famous names in the business. On August 30, during a Lynyrd Skynyrd tour stop, Michael (joined by his bandmates) was honored at an opening reception for his artwork.
Grant Gallery - January 29, 2006
On January 19, 2006 Michael had his debut into the New York art world at Grant Gallery in Soho. The opening was a jam-packed event, with people representing the art, music, sports and entertainment fields. The Road Series Paintings and John Lennon portrait were on view.
"The Opening Night Reception was an incredible event," says Michael. "To be supported by family and friends like that, was very touching. Also the press and reviews were very supportive which was encouraging as well. I can't imagine a better debut into the New York Art World."
The show was strongly supported by the media: ARTNews Magazine, Jan. 2006, Gotham Magazine, Feb. 2006 and FineArts Magazine, Spring 2006.